Facebook vuole convincere i "creator" e le aziende a caricare video. Per farlo sta potenziando velocemente i suoi strumenti di analisi.
Dopo l'aggiornamento di febbraio ecco le nuove metriche introdotte poche settimane fa.
Spaccato giornaliero dei seguenti KPI relativi ai video caricati:
– Minuti visti: il tempo totale di visualizzazione di un certo giorno;
– Visualizzazioni: il numero di volte che un video è stato visto in un certo giorno;
– Visualizzazioni per 10 secondi: il numero di volte che video è stato visto per almeno 10 secondo in un certo giorno; se il video è più corto la metrica viene riferita al numero di volte che il video è stato visto per almeno il 97% della sua durata;
Use new daily metrics for videos. This new data gives Page owners a better understanding of when their audiences are watching their videos, providing a more detailed picture of performance. Read more on our blog: http://media.fb.com/2016/03/24/video-metrics-update-new-daily-video-breakdowns/.

Posted by Facebook Media on Thursday, March 24, 2016
Gli amministratori di pagine, anche non certificate, ora possono fare streaming di contenuti grazie a Facebook Live. Le metriche disponibili sono le seguenti, le prime due sono una novità:
– Live Broadcast Audience: il numero totale delle persone che hanno visto il video durante la diretta;
– Viewers During Live Broadcast: una rappresentazione grafica della quantita di spettatori presenti durante la diretta, in moda da poter capire i momenti di maggiore e minore interesse;
– Unique Viewers: spettatori unici (considerati solo una volta, anche se hanno visto più volte il video);
– Views: visualizzazioni complessive;
– 10 seconds Views: visualizzazioni di almeno 10 secondi del video;
– Average % completion: la percentuale media di completamento del video.
Questi indicatori sono accessibili dalle sezioni Insights e Video Library, ma anche cliccando il video che interessa analizzare.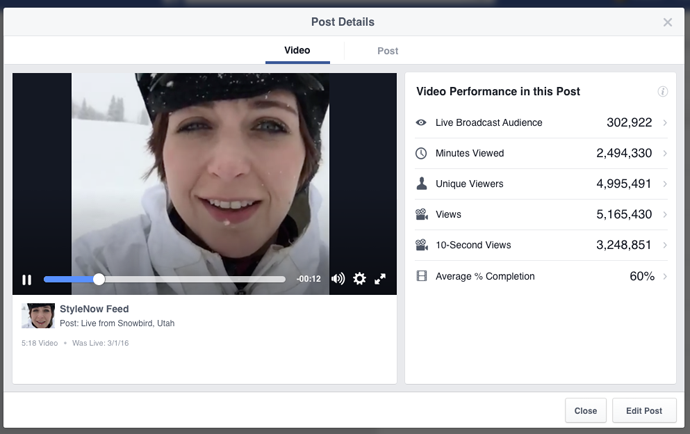 L'aggiunta di metriche granulari è un elemento imprescindibile per dare alle aziende e ai creator la possibilità di comparare le performance dei propri video su Facebook, YouTube e Periscope.
Se avete già avuto modo di valutare le differenze raccontatemelo nei commenti. Grazie!